The inline solution "Microcrack Inspection" is designed to detect microscopic cracks in solar wafers, which, if they were to remain undetected, would most probably result in a broken wafer at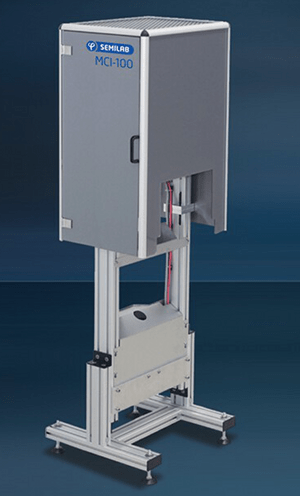 some later stage of the production process. Other candidates for detection are material inclusions and holes, which can have a detrimental effect on both efficiency and quality of the final product.
A 4k line-scan camera and the specially developed lighting equipment provide high-resolution, high-contrast images of wafers manufactured from a variety of silicon materials. The powerful image-processing software relies on these detailed images to detect suspicious areas. Highly developed classification algorithms proven in everyday practice for years insure a clear-cut distinction between admissible wafer structures such as, for example, grain boundaries, and a number of different types of defect.
With this pinpoint technology at work for you, you are guaranteed the ultimate in rates of detection and reproducibility. The inspection results are displayed on the graphic user interface (GUI) and stored for further evaluation in the form of defect data and defect images. In addition, depending on inspection result and type of defect, it is possible to sort the inspected wafers. When integrated into a production line, the inspection solution is able to detect microcracks at top speed, without interrupting the handling system. Reliable rejection of potentially fracturing microcracks, facilitated integration and flexible connection to data management systems make the "Microcrack Inspection" the ideal tool for your cost-efficient production processes to help you avoid wastage and extra costs.