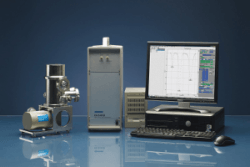 Deep Level Transient Spectroscope
The DLS-83D offers a fully automatic measurement mode as well as providing complete interpretation of the measured data, including impurity identification and concentration determination without any need for user interaction.
The deep level transient spectroscopy (DLTS) is the best technique for monitoring and characterizing deep levels caused by intentionally or unintentionally introduced impurities and defects in semiconductor materials and complete devices. It is an extremely versatile method for determining all parameters associated with deep traps including energy level, capture cross section and concentration distribution. It permits identification of the impurities and is capable of detecting contamination concentrations below 109 atoms/cm3.
Key Features:
Highest sensitivity (109 atoms/cm3) for detection of trace levels of contamination
Interfacing to a broad range of cryostats
Wide range of measurement modes:

temperature scan
frequency scan
depth profiling
C-V characterization
capture cross section measurement
optical injection
constant capacitance feedback loop
conductance transient measurements
MOS interface state density distribution

controlled by digital and analog settings to allow real ease of operation
sample quality test by I-V, C-V
full computer control with extensive software support, complete library database for accurate contamination identification